10 Top Tips for remaining professional and sane in the post-COVID remote working world
With polls showing a general reluctance among UK workers to return to their old commute and office-based routines, online video calls are clearly here to stay. But as we all get back to regular work, we will inevitably expect more from one another in online meetings, just as we would if we were meeting face-to-face. With this in mind, here are my top tips for remote communication.
Allow time in calls with regular clients to talk about things other than work. It may help them; it may help you. It will develop relationships and it will be part of the "new normal".
Use a variety of communication methods and allow yourself time to wander around after a long call. You would do so if office based.
Make it clear when you are NOT available and invest in voice mail.
Try not to have a bed in shot and, if one is, ensure that it is made.
Mirrors in the background of a video call make for a confusing screen.
Take time out for coffee, lunch and toilet during the day. You would do in an office.
Recognise that we are using methods that are new to clients as well as ourselves.
Upgrade the innards of your computer to ensure adequate processing speed, even when video apps are open.
Ensure that a suitable mug is being used for coffee. Some slogans may be amusing to you – less so to clients. (My mugs of choice are one that says "I (heart) Bristol" and one with London Buses on it, bought from a charity shop in Edinburgh!)
Keep in touch with people in the real world. I live in a village of three settlements and less than 320 people across all three – so we are isolated. We have more walkers and cyclists than ever we did, so we have coffee in the front garden and say hello to walkers, horse and bike riders.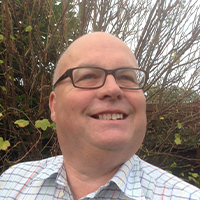 Andrew Rainsford is a specialist consultant in the Christian sector, helping churches with matters concerning buildings, capacity building, project development, income generation and community enterprise. He has 28 years experience in funding and third sector management and now engages with projects that will make a difference to the community.