Response, recovery and reconstruction: 8 insights on adaptive fundraising during coronavirus
I've worked at senior level for three DEC member charities: World Vision, Oxfam and Christian Aid. Emergency fundraising is in my blood. I'm used to thinking about the three phases of humanitarian emergencies: response, recovery and reconstruction. I thought there would be parallels for thinking about the way fundraising leaders can operate during the Coronavirus Crisis.
I first worked on these insights in June 2020, but they seem as relevant in early 2021 as the crisis, like the virus itself, mutates. So I've updated the original article.
Many thanks to my fellow Action Planning consultant Emily Petty for her helpful comments on my thinking.
Insight 1: The charity's financial situation affects our fundraising time horizon
What is our current reserves level and when does the cash run out, based on a range of financial projections? (I'll talk about more about financial projections under Insight 7). The answer is crucial to informing our fundraising priorities.
I can think of two very different charities that I know well. One is fortunate in still having very healthy reserves. It can plan with a three-year horizon in mind. The other charity could run out of cash in the next financial year. This focuses the mind. There's no point coming up with a brilliant plan for regular giving acquisition that will be cash negative in year one. They need to focus on raising money this year. That means concentrating on renewed submissions to a small core of Trusts and Foundations and major donors with whom they have deep relationships, and continuing their individual giving appeals, especially with their core middle donors.
Insight 2: Thinking ahead to where people will be mentally
This has never been more important across all fundraising income streams. Many trusts and foundations really stepped up in 2020, making grants that
I was a hockey player for many years. A while back, we had a stellar season, but one guy made the difference. He was never rushed and didn't seem that quick, but he was always in the right place at the right time. He read the game and had an uncanny knack of knowing what was going to happen next.
Like my former teammate, fundraising leaders have to be one step ahead in thinking through how core supporters might be feeling when the next appeal lands. Mark Phillips and his team at Bluefrog did a masterful job of researching donors at different stages of the pandemic in 2020. Attitudes shifted a lot. So how will people respond in March and April 2021? Will there be a sense of spring optimism as more and more people have been vaccinated, or will there just be a sense of exhaustion? And how will that play out across the generations?
Similarly, with our staff, we have to be thinking ahead. This has been a real roller-coaster for our teams and the cumulative effects of lockdown and working from home will be changing the dynamics. How are we planning ahead to sustain motivation?
Insight 3: This isn't a "one size fits all" emergency
Whilst, initially, there was something of a "we're all in this together" feeling in the country, coronavirus has been experienced very differently depending on how old you are, what job you do, where you live and your ethnic background. Deep-rooted inequalities within our society have been truly exposed by the pandemic.
For fundraising leaders, coronavirus is being experienced very differently depending on the fundraising mix. Those fundraisers heavily dependent on community fundraising and events continue to have an especially tough time. I have one client whose biggest income stream is a week-long face-to-face community fundraising activity. Despite pivoting online, income was significantly down in 2020 and looks like it will be again in 2021. By contrast, I work with some other organisations with a strong core of individual giving, who have seen single giving well up year on year and – so far – minimal impact on regular giving. This might continue in 2021 as the impact of coronavirus remains so salient.
Coronavirus is having a highly variable impact for individual supporters. PwC's Covid 19 economic outlooks have highlighted that over 1 in 5 people have seen their bank balances increase during the crisis because of reduced spending. My guess is that the percentage is even higher for what CAF call the "Civic Core" of highly engaged individuals. So, there are opportunities. As a fundraising leader, are you focusing the right amount of effort on those individuals close to your cause?
Coronavirus is also being experienced very differently by your staff. So as a fundraising leader, you need to "step into other people's shoes" to find the best way to build the team and manage individual wellbeing. As a leader, you may be having a tough time (I am conscious just how many fundraising leaders are juggling home schooling and other responsibilities, and that is taking an increasing toll the longer schools are closed). So where are you getting your support?
Not every fundraising leader is a people person. Maybe your prime skill set is planning. If so, do make sure that you have got members of your team clearly empowered to lead on people issues and give you advice.
Insight 4: It's a triathalon, not a sprint
I heard so many people say last summer, "It's a marathon not a sprint." That was true to a point. We needed to pace ourselves and our teams.
But, at another level, a marathon wasn't the best analogy. Why? Because there have been so many different phases to the crisis as we move from the immediate health crisis, the second wave and then the economic fallout. A triathalon captures the idea of a long-duration event with multiple phases (although I think increasingly it's feeling more like a heptathlon or even a decathlon)!
With multiple phases and transitions, supporter communications must be dynamic and agile. Early on, I advised several Christian charities to revamp their traditional paper-based prayer letter into something more immediate and digital. One CEO started doing a short weekly video with prayer pointers, which was working really well.
Given how fast things keep changing, care needs to be taken with supporter magazines to make sure that they aren't dated by the time they doormat. Keep working with webinar-style events on Zoom, Facebook Live etc. Although quite a bit of Zoom fatigue has set in, this is less true if your core supporters tend to be retired.
The multi-event analogies will also apply to leading staff through the crisis. Alongside the worries about burn-out and the frustrations of not being able to meet colleagues face-to-face, there's also the challenge of doing change in a remote working environment. Which leads me to Insight 5.
Insight 5: Doing change during a triathalon
As fundraising leaders, we aren't waiting out a storm until things can go "back to normal". That "normal" is not coming back. Across the sector as a whole, there is going to be less money about. And, whilst it would be self-defeating for fundraising to bear the brunt of cuts, it would also be foolish for us to think that we won't have to work with reduced budgets.
Some elements of the fundraising mix (charity shops and community fundraising for example) may never be the same. The shift to digital has accelerated and must become a core, mainstream discipline.
The Coronavirus Crisis has shown that we can be more agile. Silos can be broken down. Storytelling can be done authentically and on shorter lead times. Supporters can be engaged more actively.
The eventual phasing out of the furlough scheme will be crunch time for many. Restructures and redundancies will be necessary in many instances. If they are, then they are going to have to be done in the middle of the triathalon and while we are still working virtually.
Having worked in the commercial sector as well as the not-for-profit sector, I know how difficult change can be for charities. Most people are so much more "invested" in the organisation and changes to roles and redundancies are about more than a loss of income. Change can be taken incredibly personally, because many a team member's identity is wrapped up in the job.
Doing change during the triathalon will add further strain on fundraising leaders. Working out how you are going to carve out time to craft plans whilst managing the day-to-day fundraising operation is crucial. Developing plans for structural change can't be a job for the night shift if you want to avoid burn out. If you have a relationship with a trusted consultant, use them as a sounding board. And do make sure you have people in your network who you can call on for emotional support.
Insight 6: Plan on multiple time horizons
Humanitarian emergencies do have multiple, but sequential, phases. But fundraising leaders can't afford to be too sequential in their thinking.
If you are operating with minimal reserves and there's a possibility of being out of business, then, as a fundraising leader, you are still going to be focused on short-term cashflow generation.
However, for other organisations, you know that change takes time. So you need to be thinking about the "reconstruction phase" as soon as you can. How are you going to build back better in your fundraising?
I recommend taking some time out to reflect on what you've learned so far in the pandemic. Are there some new things that you've done that will prove foundational for the long term? Perhaps you've run a Facebook Ads campaign for the first time and the results have been excellent. What has the experience said about your digital infrastructure for the long term? What do you need to change now if you are going to be a "digital first" organisation?
Planning longer-term change whilst leading day-to-day and making sure the team are in good shape is a demanding juggling act. It's even harder if you need to make some staffing changes as furlough unwinds. No-one wants to be having an endless change programme, so it's ideal if you can have done some thinking (even if high level) about the future of the fundraising team.
In doing all this juggling, where are your strengths? Where do you need to delegate or bring in some surge capacity?
Insight 7: Be more flexible in your planning
In my experience, charities can be very hard-wired into the annual budget and three-year plan cycle. Too many Trustees don't understand the different timelines for generating return on investment across income streams. The budgeting process can lead to sub-optimal decisions if fundraising leaders can't articulate themselves financially.
As mentioned in Insight 1, fundraising leaders need to understand the time horizon for financial survival. With that in place, they can develop financial plans looking beyond the current budget. How will community fundraising activity come back? Will the extended period of lockdown lead to some older volunteers giving up permanently? Is now the time to build a compelling case for legacy giving?
I'm seeing some boards of Trustees looking at budgets as if we are still working in times of relative certainty. This isn't helpful. I would encourage fundraising leaders to be lobbying their finance directors to use scenarios and ranges for different income streams based on those scenarios. This will give you better understanding about what is and isn't controllable and where your fundraising efforts can make a real difference. It will also help explain to your teams about what is likely and what is highly uncertain.
Insight 8: Be positive. Adopt a growth mindset
Early on in the crisis, the Institute of Fundraising released data forecasting dramatic income decline across the sector. It felt a bit like Private Fraser in Dad's Army: "We're doomed." Whilst not making light of the huge negative impacts on some fundraising streams, there have been some real positives.
Major donors have been at home and not flying around the world. You can get to talk to them. They aren't in control and their empathy levels have increased. Many older people have been asked to shield. They are normally very active volunteers and yet, currently, they are feeling disempowered. Giving has been a hugely empowering thing for them and they've responded to asks. Digital fundraising has been delivering great results. TV advertising costs have dropped and more people have been watching. DRTV results have been better than for a long time.
Similarly, the need for remote working has often broken our teams out of silos and helped us think about new ways of doing things. I can think of a couple of charities I advise for whom coronavirus has been an opportunity to think differently. And they've grabbed it enthusiastically.
---
So, despite the pressure, as fundraising leaders, adopt a growth mindset: focus on what you have, not on what you don't. I recently ran a workshop with a small charity working with homeless and vulnerable people. This shift in mindset was really liberating. Think about different ways that your closest supporters can help you.
Never waste a good crisis, even if this one is going on and on!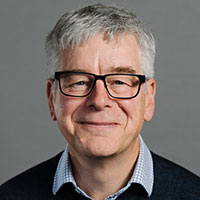 Do you need a sounding board for your fundraising plans?
Andrew Barton is an Action Planning associate based near Milton Keynes. A freelance fundraising consultant with a particular interest in international development, ecology and mission, he has worked in executive leadership fundraising roles at World Vision, Oxfam and Christian Aid.