You're on mute, John...
Yesterday, a client pointed out to me that my Zoom name was appearing as Spacey McTastic – not the most professional start to a meeting, but I'm sure my 8-year-old and her friends thought it was hilarious when they changed it in their Zoom call the hour before...!
Nearly everyone has had their own experiences (good, bad and interesting) of this new technology that has become so prolific in the past month (oh if only I had bought shares…). But I have picked up a few practical points from facilitating some Zoom-based workshops in the past few weeks, and I thought it might be useful to share them…
Call Duration
The length of a Zoom call should be a maximum of 1.5 hours (including a short break if there is a lot of information to take in). If you are adapting something that would have been a full-day workshop, it could be delivered in two 1.5 hour workshops with a good sized break in between - but expect to deliver less content. Zoom fatigue is a real thing so it's good to help your participants stay fresh and not glaze over.
Having said that, everything takes longer online – from technical issues to sharing screens, facilitating discussions and moving people in and out of breakout rooms, so expect to cover less than you would if you were delivering face to face.
Breakout Rooms
Breakout rooms are tremendously valuable for sharing views and discussing topics in smaller groups. The optimum number seems to be four per group – this increases diversity of thought and allows for different personalities to think aloud or take time to reflect. Two per room can be a bit too intense, and more than five is just too many for everyone to feel able to contribute.
Dropping in on breakout rooms can be a little intrusive – but useful if you want to support groups or see how they're getting on. However long people are in breakout rooms seems to be too short – but it is good to leave people wanting more!
Interactive Chat
The chat function is also good for people to interact, stay engaged and share information in a way that takes up less time – as time is precious online. But beware that it can be distracting and perhaps ask someone to manage the chat for you so they can pull out key points or raise questions asked.
Enlist a Co-Pilot
Having a second person to provide technical support can be useful. As well as keeping an eye on the chat, they can manage the 'waiting room' for you so that you can have everyone join at the same time once you're ready to start; send people off to breakout rooms; mute participants when you are presenting to avoid background noise, typing, coughing, screaming children, barking dogs, (I could go on)…
Staying Focused
Distractions are plenty on Zoom – if you're spending a lot of time being distracted by how good or tired you look in your own little window, you can turn off your self-view. Just hover over your picture, click on the three dots and click 'hide self view'. You can get it back again by clicking on 'show self view' at the top of the screen. Just remember to remain aware of what you are doing – although you can't see yourself, others can still see you!
Share your screen
To mix up the little boxes of faces with something else to look at, you can share your screen to show slides or use other visual and interactive tools. One tool I particularly like is called Mentimeter, which has a word cloud function. Ask a question that requires people to offer their answer in one or two words, people answer on the website using a unique code and the word cloud grows live in front of you all. It provides a conversation starter for a topic and is engaging in a different way for those who prefer time to reflect and respond non-verbally.
Record and Share
And finally, for those who aren't able to attend in person, you can record your session and send it as a link. This is also useful for looking back on discussions if you need to write anything up. Just be sure to let people know that it's being recorded beforehand.
It's a brave new world for many, but one to which we are all highly capable of adapting quickly. In my opinion, online training will never quite be as good as face to face but, done well, it is extremely effective and it enables people to come together from across the country (or even world) and sit in the comfort, convenience and safety of their own homes. And that has got to be a good thing, especially at the moment.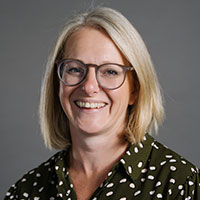 Ruth Dwight has over 20 years' experience of working in the charity sector as a volunteer, senior manager and trustee, mostly within the youth and education sectors. She helps charities to generate earned income through the sales of products and services. This includes strategic planning, programme design, business modelling and governance structures.