Head of Communications - BMS World Mission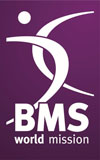 HEAD OF COMMUNICATIONS
Are you a mover and shaker, bursting with creativity?
Do you thrive when inspiring others to be agile and take risks?
We're looking for a Head of Communications to raise the profile of our work to end material and spiritual poverty. This is an opportunity for someone to shape our approach to external communications, conceiving and executing powerful and strategic campaigns and products which inspire and engage existing and new audiences.
We're looking for an experienced and motivated person to lead our friendly, tight-knit team of talented creatives, including writers, editors, designers and web specialists. Working in a dynamic and fast-paced environment, you'll oversee the creation of a range of high-quality print and digital outputs, and you'll use your own proven skills to help produce compelling, integrated campaigns which help our supporters to be a part of our global story. As the lead creative in the team, you'll use your skill and experience to deliver powerful, story-based content that demonstrates how God is at work through BMS projects worldwide.
You'll be the top authority on BMS' brand, shaping how BMS compellingly presents itself through its tone of voice and visual integrity. You'll be essential to ensuring that BMS' new five-year strategy is brilliantly communicated. And when events take place, you'll be the one to decide on messaging and design, getting the tone and materials just right.
This varied, challenging and rewarding role needs someone with superb instincts for putting the right thing in front of different audiences. You'll be approachable, dedicated, decisive and driven, building rapport with colleagues with values of servant leadership, integrity and a commitment to excellence. Above all, you'll share our vision for a world made better through knowing Christ.
The successful applicant will be a committed Christian. The nature of this role means that this is a specific occupational requirement.
---
Location: Didcot, Oxfordshire, possibility of some home work (currently remote)
Hours: 35 hrs per week / full time
Salary range: £35,812 to £40,199
Closing date: 5pm on Monday 26 April 2021
Interview date: Thursday 6 May 2021
How to apply
For more details about the role, including details about how to apply for the role, please download our candidate application pack via the button below.
No agencies please.